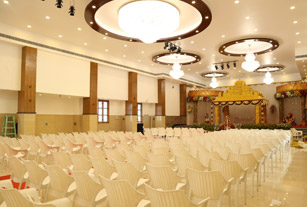 Special Services
---
Birthday parties, Anniversary's, business events our elegant hall has been designed to handle all types of events that involve large number of people. Socialize with people of same interests, all arrangement for smooth functioning of events are taken care off. Wedding Mahal near Tambaram also provides Assistance for catering, flower decoration, Nathaswaram, video etc., are also done at customers request during Booking of the hall and Elevator available to handle the elderly.

In our marriage hall you will be facilitated with a gorgeous surrounding with a glowing sense of classiness. Getting budgeted AC marriage halls in Chennai is quite tough. Grand palace in Medavakkam also awards you commendable security.
Catering Services
We assure you quality and timely delivery of catering services at the patrons request. With us, you do not need to any work just place an order, select your menu, and the lip-smacking yummy meal will be delivered at your table.
Videos and Photography
We have partners, who offer professional expertise in covering jubilations, to make your celebration a memorable asset. In our spectacular event, there is a complete package of AV presentation, the best audio system, and a great picture quality.
Decorations
Make your special day a spectacle, our hall in itself is marvel, decorations can be additional help in making your day special, keeping in mind your selection. Our team will be best in your budget to make it worth your money.